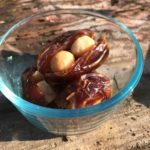 A few days ago I was hungry for a mid-afternoon snack (or as my mom calls it a "pick-me-upper").  I had a craving for something sweet so I walked (Who am I kidding?  I full-on charged!) into my kitchen to see what I could whip together.  I'm happy to report that this snack took me less than 60 seconds to make (AND consume) and it completely satisfied my sweet tooth.
Ingredients 
2 Medjool dates
2-4 Dry roasted macadamia nuts (or other nut of choice)
Instructions
Use a knife to slice open the dates lengthwise.
Remove pit from dates.
Stuff dates with 1-2 macadamia nuts.
Stuff  your face with this sweet, gooey, and pleasantly crunchy goodness.
Relish the moment knowing your sweet tooth is completely satisfied AND you are healthier for giving in to your craving.
Notes
A good substitute for the macadamia nuts is almond butter.  Instead of your snack having a crunch, it will be soft and chewy.  Of course you could always add some organic cacao nibs for added nutrition and crunch if soft and chewy isn't your thing (PS if soft and chewy isn't you, we can't be friends)!
When I shared this recipe with my husband his response was……..let's just say……..punny 🙂
Hubby: "Did you ask it [the date] permission [to stuff it]?  Otherwise that's date rape…"
On that note, I've named this blog post "Permission to Date" for obvious reasons. 😆