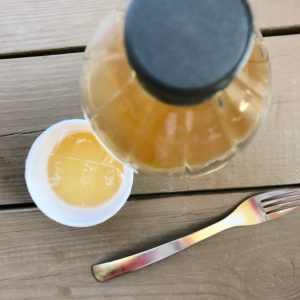 It never fails that when I have fresh produce (bananas and tomatoes are two of the worst offenders) pesky little fruit flies (of which I can only assume are the devil reincarnate) take over my kitchen.  Not only are they unappetizing, but they are downright embarrassing.  Luckily, I've found a nontoxic fruit (fly) cocktail to eradicate these winged pests.
Supplies
Apple Cider Vinegar
Small bowl
Plastic wrap
Fork
Instructions
Fill bowl with roughly 1/2 inch of apple cider vinegar.
Place plastic wrap over top of bowl, making sure to secure it tightly around the edges.
Poke 3 to 4 sets of holes in the plastic wrap with a fork.
Notes
The tiny holes from the fork will allow the fruit flies to enter into the bowl, but not exit.
I learned (through trial and error) that white vinegar doesn't work.  Not even a little bit.
I also learned (the hard way 🙁 ) that fruit flies are attracted to red wine.  Consider yourself warned!
As I write this post I have a vinegar bowl with 15…..no wait, make that 16….. winged pests who have flown their last flight 😈 .
You'll thank me for this solution when you make Fire Cider as it is a flying devil magnet.