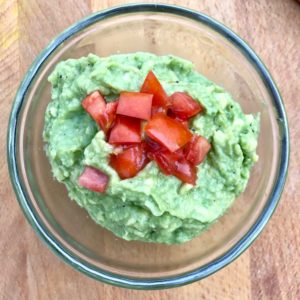 After years of secretly judging my friend for not liking avocados she's finally come to her senses 😈 .  In celebration of her new found "tolerance" of this nutritious fruit I felt inspired to share my homemade guacamole recipe.
Fun/Weird/Slightly disturbing facts about avocados:
Avocado trees do not self-pollinate, but rather they rely on a cross-pollinator to produce fruit.
Because avocados need a mate (cross-pollinator) and they grow in pairs, Aztecs considered the fruit a sign of love and fertility.
The word avocado comes from the Aztec word "ahuacatl" which translates to testicle tree (did anybody else just throw up in their mouth a little?).
TECHNICALLY avocado is a single-seeded berry, but feel free to call them whatever you'd like – fruit, berry, alligator pear, or (deep swallow/gag) testicle fruit- the most important thing is that you actually eat them!
Each avocado contains over 20 different vitamins and minerals AND provide all 9 essential amino acids making them a complete protein.
For the AVERAGE person, this recipe makes 1-2 servings.  However, at our house we are far from average, so the following recipe serves 1.
Ingredients
1 Avocado (I use Hass)
1/2 small Lime, juiced
1 clove Garlic, pressed
To taste, Slap Ya Mama Cajun Seasoning (Salt, Red Pepper, Black Pepper, Garlic)
Optional: diced tomatoes, onions, and/or cilantro
Instructions
Slice, peel, and remove stone from avocado.  Place yellow/green flesh of the avocado in a bowl and smash with the back of a fork.  I like a little texture so I leave a few chunks.
Add lime juice and pressed garlic to smashed avocado and mix to incorporate evenly.
Add Slap Ya Mama to taste
Optional: Add a combination of tomatoes, onions, and cilantro and lightly fold into base guacamole recipe to ensure the tomatoes and cilantro maintain their form.
Notes
We enjoy fresh guacamole with organic tortilla chips or as a side for tamales.  To step it up a notch I like to buy the Late July Sea Salt & Lime tortilla chips.
Guacamole is best eaten fresh.  If you have leftovers (which I doubt you will because this recipe is To.Die.For), make sure you store it in an airtight container.  We like to lightly press a piece of plastic wrap directly on top of the guacamole ensuring that as much air as possible is removed thus slowing the oxidation process.  We don't like our guac turning brown. Ain't nobody got time fo dat!
Take away from today's post: Money may not grow on trees, but apparently testicles do…
Bon Appetit!