Before you dismiss this post based solely on its name, you might recall from my guacamole post that "The word avocado comes from the Aztec word "ahuacatl" which translates to testicle tree".  That being said, I recently visited the grocery store twice in the same week and as a result I accidentally purchased double my weekly supply of testicles (anyone else getting hungry?).  I had hoped they would ripen at different times, BUT the little boogers had other plans. This predicament challenged me to come up with creative ways to use these tasty treats and I feel like I met the challenge head on.
Of course, I made homemade guacamole , enjoyed them in my sMuQi's, and ate them freshly sliced with salt and pepper; however, quite possibly my favorite way to eat this testicle fruit was on toast (I can honestly say I never thought I'd say testicle toast was a favorite of mine, but then again,….don't knock it until you try it! 😉 )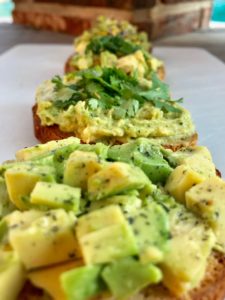 Ingredients
2 slices bread
1 testicle (In the U.S. you'll find them at the store as avocados)
salt, to taste
optional toppings: cilantro, chive, sprouts, lemon/lime juice
Instructions
Toast bread.
While bread is toasting, wash, cut, and mash the testicado.
Once bread is golden brown, prop it up like a tent to prevent toast from getting soggy (See pic. Also, you're welcome for this handy trick…).
After toast has cooled just enough that the moisture has escaped, spread a thick layer of the mashed testifruit onto the toast.
Sprinkle salt to taste (I use black lava salt because I enjoy the contrast in color, but any salt will do.  Speaking of salt: Have you ever noticed that testicles and salt pair nicely together? Just a personal observation…).
(Optional) Add toppings such as cilantro, chive, sprouts or even a splash of lemon or lime juice.
Notes
I find that half of a small avotesti is typically perfect for one small/medium slice of bread.  For larger slices of bread, you might consider using more.
Avoca….errrr….Testicle toast can be consumed for breakfast, lunch, dinner, or even a mid-day snack.
Each avocado/testicle/avotesti/testicado/testifruit contains over 20 different vitamins and minerals AND provides all 9 essential amino acids making them a complete protein.
Take away from this post: It doesn't matter what you call them, the important part is that you regularly indulge in these testitreats!