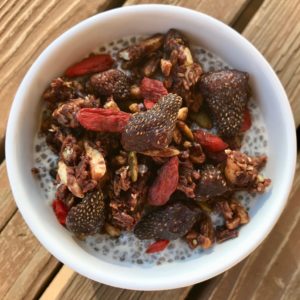 Some mornings I enjoy a savory breakfast like avocado toast, and other mornings I crave something more sinful like chocolate… topped with chocolate… served with a side of CHOCOLATE.  It's mornings like the latter, that I indulge in homemade chocolate nut granola.  You might be wondering why I make my own granola when there are so many readily available at the grocery store.  This reason is two-fold.  1) I do not tolerate oats and the majority of prepackaged granola options use oats as their base ingredient.  B) I like knowing exactly what ingredients are in my food.  By making this quick recipe at home, I know there are no preservatives or synthetic ingredients. And III) It is much more economical to make granola than to purchase the prepackaged variety. (just realizing my reason is in fact NOT two-fold…)
The chocolate nut granola recipe is fantastic on it's own or with a cup of black coffee (decaf for me!), but also pairs nicely with yogurt or chia seed pudding.  The above picture is chia pudding topped with chocolate nut granola and dried goji berries and strawberries.  TO. DIE. FOR.
Ingredients
2 cups nuts and/or seeds (I use a combination of almonds, walnuts, and pumpkin seeds)
3 tablespoons coconut oil
1/4 cup raw honey
3 tablespoons unsweetened cocoa powder
1/2 teaspoon vanilla extract
1/2 cup shredded coconut
1 ounce dark chocolate, chopped (optional)
pinch of salt
Instructions
Preheat oven to 200°F.
Coarsely chop nuts/seeds (I use my food processor)
Add coconut oil, honey, cocoa powder, vanilla extract, and salt to a small saucepan.  Stir over low heat until coconut oil is melted and ingredients are combined.
Turn burner off and pour the coarsely chopped nuts/seeds  and shredded coconut into saucepan.  Stir until combined.
Line a baking sheet with parchment paper and spread mixture into an even layer.  Bake for 30 minutes.
After 30 minutes, remove the granola from the oven and allow to cool on the baking sheet.  Once cooled, break granola into chunks (can add optional dark chocolate at this point if desired).
Store covered in fridge.
Notes
I find that the granola is soft for the first day or two but as it sits in the refrigerator it dries out and gets a nice hard texture.
Although I have not tried it, I imagine peanuts would be a good nut (technically legume) to try in this recipe.
Chocolate nut granola will last for weeks stored in an airtight container in the refrigerator.
Recipe inspired by Paleo Leap.