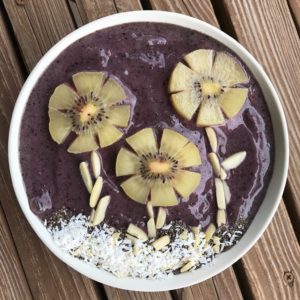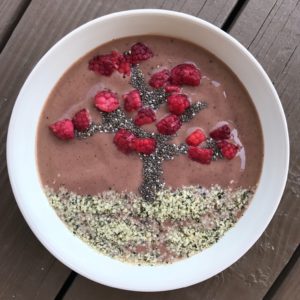 Let's talk about smoothie bowls.  It is literally a smoothie….(wait for it)….IN A BOWL.  I know, mind blowing isn't it?  I like smoothie bowls because they are a way to express creativity in a fun and nutritious way.  There's no right or wrong way to make a smoothie bowl (That's not true. Every once in awhile I come up with a flavor combo that even my dog wouldn't eat, but that's definitely not the norm).  For the smoothie bowl base I typically add:
3 or 4 different frozen fruits (banana, blueberries, strawberries, cherries, acai, raspberries, pineapple, peaches, etc)
vegetables (my favorites are spinach, zucchini, and carrot)
(optional) plant-based fat (1/2 avocado, 1 tablespoon coconut flakes, 1/2 – 1 tablespoon nut butter, flax seed, etc)
*Note: I use approximately twice as much fruit as I do vegetables in my smoothie bowls.
Once I've added fruit, vegetables, and pant-based fat (optional, but recommended) to my blender, I blend these ingredients with just enough almond milk so that my smoothie base is smooth, but still thick.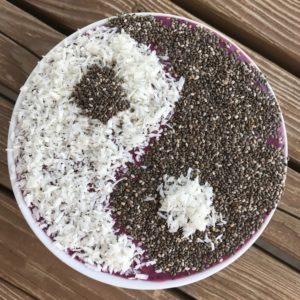 For extra nutrition I sneak in a serving of ONE of the following powders:
amla (Indian gooseberry)
dried cranberry
spirulina
dried dragon fruit (pitaya)
plant-based nutritional powder (like Vega One)
As an added bonus, some of these powders are naturally vibrant in color which, in my opinion, enhances the visual appeal of the smoothie bowl.
Once I've blended the smoothie until it's nice and creamy, I pour that bad boy into a bowl.  Depending on the flavor profile of the smoothie I then decorate with fresh fruit, coconut flakes, chia seeds, slivered nuts, hemp hearts, pumpkin seeds, cacao nibs, or even bee pollen.    

Smoothie bowls are great for breakfast or as an afternoon snack.  It is especially fun to get others involved by making a large batch of the smoothie base and then encouraging each person to decorate his/her own bowl.
My current favorite smoothie base is wild blueberries, cherries, strawberries, spinach, and dragon fruit powder.  Rather than blending a plant-based fat into my smoothie, I reserve coconut flakes as part of my decoration.
My husband's go-to smoothie base is banana, Vega One French Vanilla or Chocolate Nutritional Shake, peanut butter, and whatever vegetable we currently have on hand (Yes, I realize this smoothie recipe only has 1 fruit and my recommendation above was to add 3-4 different fruits.  Here's the deal… Eating ANY fruit is better than eating NO fruit  🙂 ).
Now that I've shared our recipes with you, I'd love if you would share your favorite smoothie recipe with me.  Feel free to share in the comments!