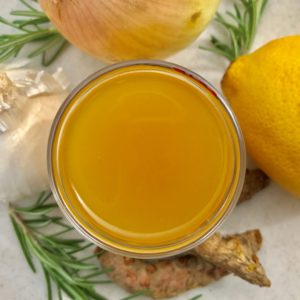 Fire cider (not to be confused with hard cider) is a folk remedy used to help boost the body's immune system, clear congestion, ward off bacterial and viral infections, and aid in digestion.  Not only does it pack a potent punch, but it is also warming (which is perfect for cloudy days like today).  Fire cider can be described as simultaneously spicy, sour, and sweet and is good for sipping or used in cooking.  Because this recipe has to sit for one month to reach its full potency, we make a batch prior to the cold and flu season and store it in the refrigerator until it is needed.  The recipe below is from Mountain Rose Herbs, and is my family's go-to remedy any time we feel like we're coming down with a cold or the flu.
Ingredients
1/2 cup fresh grated organic ginger root
1/2 cup fresh grated organic horseradish root
1 medium organic onion, chopped
10 cloves of organic garlic, crushed or chopped
2 organic jalapeno peppers, chopped
Zest and juice from 1 organic lemon
2 Tbsp. of dried rosemary leaves
1 Tbsp. organic turmeric powder
1/4 tsp. organic cayenne powder
organic apple cider vinegar
1/4 cup of raw local honey, or to taste
Instructions
Prepare your roots, fruits, and herbs and place them in a quart-sized glass jar. If you've never grated fresh horseradish, be prepared for a powerful sinus-opening experience!
Pour the apple cider vinegar in the jar until all of the ingredients are covered and the vinegar reaches the jar's top.
Use a piece of natural parchment paper under the lid to keep the vinegar from touching the metal, or a plastic lid if you have one. Shake well.
Store in a dark, cool place for a month and remember to shake daily.
After one month, use cheesecloth to strain out the pulp, pouring the vinegar into a clean jar. Be sure to squeeze as much of the liquidy goodness as you can from the pulp while straining.
Next comes the honey. Add and stir until incorporated.
Taste your cider and add more honey until you reach the desired sweetness.
This is a perfect gift to share with friends and family during the cold and flu season.  I strongly encourage you to purchase the ingredients and make a batch of fire cider NOW so its ready for yourself and your loved ones when it's needed. 🙂
As always, may you find health and happiness!
Recipe from Mountain Rose Herbs