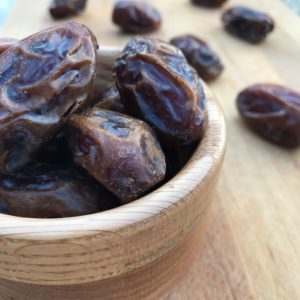 I've been playing around with tropical smoothie recipes for awhile and they always seem to come out bitter. How can that be when each individual ingredient is naturally sweet?!? Truth be told, making smoothie recipes that taste good SOUNDS easy, but getting the perfect blend of sweet and savory has its challenges.  After talking it over with a friend, it was suggested that I add a natural sweetener like honey to counter the bitterness.  Excited to see if honey was the missing ingredient I hurried home and tried this addition.  Although the honey did improve the taste (slightly), something about the flavor of the honey did not pair well with the rest of the smoothie ingredients.  Then, today I was watching YouTube and the video blogger added medjool dates to his smoothie in place of a traditional sweetener  (Eureka! Something I hadn't considered.  I mean, who doesn't love a good date?!?).  I rushed to my pantry and retrieved a bag of medjool dates.  What happened next was something I can only describe as magical.  I placed the dates in my smoothie and (voila!) it was the PERFECT blend of tropical goodness.  As an added bonus, dates are an excellent source of potassium :).  All of this to say, I'm happy to share my tropical smoothie recipe with you all and hope that you enjoy it as much as I do!
Recipe
1 medium banana
1/2 cup pineapple
3-4 medjool dates
2 tablespoons chia seeds
6-8 pecan halves (or other nut)
1-2 cups non dairy milk (I use almond milk)
Instructions
In a blender, combine all ingredients and blend until smooth.  Feel free to adjust the amount of  non dairy milk you use to make the smoothie the right consistency for your personal taste.